Order Execution Monitoring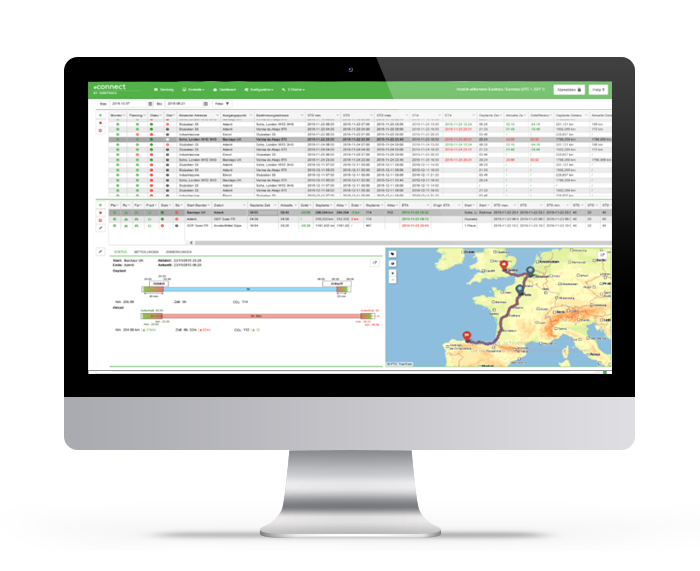 Shipment monitoring through the eConnect Control Tower.
Using real-time information, directly coming from the vehicle, eConnect Order Execution Monitoring interprets the status of shipments automatically, always providing you with the status of all transport orders without any user interaction required.
Live monitoring of your different trips and corresponding reports, enables you as a decision-maker to take direct action whenever anything goes wrong.
eConnect offers you a 'management by exception' solution which helps you to focus in the first instance on problems, and offers you the opportunity to evaluate and correct your the planning of future shipments.
The eConnect platform is the fastest growing collaboration and monitoring platform in Europe. It will allow full control and insights during the execution of the transports even when executed by subcontractors; and helps you to focus on those shipments with potential problems.
Through 'management by exception', you can focus on transports that might go wrong and make adjustments up to the very last mile.
Management of all your logistic orders, automatic monitoring of arrival times (ETA) of your transport orders, verification of capacity utilisation of your hubs… These are but a few examples that eConnect Order Execution Monitoring can manage for you.
Benefits
Automatic calculation of routes according to execution times using the route geofencing functionality
Constant evaluation of ETA and ETD, with or without traffic information
Verification of hub capacity utilisation (monitoring of arrivals and departures)
Forcasts of arrivals based on traffice information
…
Automatic registration upon arrival and departure
Expected times of arrival and departure at hubs
Security Monitoring
Planned versus actual comparison
Route Geofencing
Deviations from time frames
Temperature verification
Traffic integration (optional)
CO2 monitoring;
Integratie van statusberichten
Route guidelines
…
Real-time follow-up from your own back office software, or as a service to your customer!
The eConnect platform, which offers both functionality for multi-level order sharing and telematics independent monitoring of your shipments, provides additional functionality to make the integration or external monitoring of these assignments even easier.
Our platform ensures that you can integrate all events that are triggered by and for a shipment into your own back office applications or can consult very clearly and in detail via the eConnect portal.
But integration is usually a time-consuming job, or your customer also asks to be able to easily follow up the loads that you handle for him.
This can be done with eConnect! For each shipment that you follow with our control tower, you can easily integrate or share a monitoring screen with your customer or another party involved in the shipment.
This way, integration was never so simple, and also offers great added value to your logistics partners or customers.
Automatic Vehicle Assignment (AVA)
eConnect Order Execution Monitoring ensures that the parties involved within the logistics chain are alerted to problems during the execution of transport orders.
The vehicles involved are always monitored in real time. Within the eConnect platform, the vehicles can easily be assigned to the transport orders that they have to carry out.
As the eConnect platform is an important 'management by exception' tool for many companies, which ensures better control of the logistics flows, and a learning platform to optimize future logistics movements, it is important that all transport orders are monitored. This requires that the executive vehicle is known for every order.
Today, the new functionality of eConnect ensures that monitoring is also possible for transport orders where no vehicle is connected. For this purpose, the platform uses the AVA (Automatic Vehicle Assignment) algorithm, in which all possible candidates are continuously compared with the shipments to be carried out. The algorithm then assigns the right vehicle to the transport order and will also follow this choice. eConnect ensures that these assignments also have the necessary information, without human intervention, so that you can anticipate potential problems during execution.
The better you can analyze all your assignments, the more efficiently you can plan your future assignments!
Preferred Telematics and Software Partners
We strongly believe that the follow-up of transport assignments that you carry out or outsource to subcontractors can be monitored in real time if you use the telematics solutions that your partners already have on board.
That is why we opt to have the telematics partners of the companies you work with connect to our eConnect Platform.
Take a look at some of the preferred partners who have been connected to us!
No telematic solution on board?
With the eConnect App status information on all trips to be performed – also from transport companies or subcontractors without on-board computer – can be exchanged in real time (positions, arrival and departure, beginning and end of action, ETA…). eConnect immediately integrates different transport companies, subcontractors or other service providers in the logistic chain, completely independently of a telematic solution.
"Both clients and carriers can at all times consult the status of a shipment. Deviations in the logistic chain can be visualised in the control centre, enabling each party involved to react swiftly. The quality of the cooperation and offered services can be optimised at all times because every activity is measurable."
Christiaan Bert, Managing director